Why use

Ivka Forest
*

Natural Products for Beauty, Health & Longevity?

Ivka Forest products are created with love and compassion, understanding that everything we put in and on our bodies, must come from Creation itself, as only Source knows. Chemicals from preservatives and additives used to "enhance" the attributes of products have an adverse effect on the main reason why one would use them in the first place.
Go to Ivka Forest* Health Products shop at Ivka Forest Cosmetics Store Mention Agape Energy Academy when you purchase products.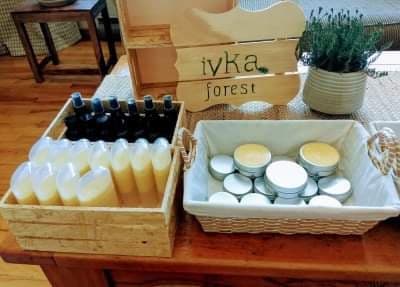 Ivka Forest* products are ALL NATURAL, handcrafted and organic. Immunity prevention and treatment, boosters & supporters, nourishing and hydrating,, Airway cleansers, Chest & Neck protection and pain relievers,
Products you'll find @

Ivka Forest*
For all your health needs, Ivka Forest has the right product for you
Immunity Boosters
Face and Body Balms
Refreshing sprays & Mists
Gift ideas
Moisturizers
Cleaning Products
Nasal Inhalers
Cold Sore products
Chest and Neck rubs
Hands and Feet rubs
Essential oils
Herbs
Products for the cold and flu season
and more…
Who are these products for?
Ivka Forest's* in depth knowledge of who particular products are meant for, allows you the option to provide for your family and loved ones exactly what they need. There is something for everyone
Individuals of all ages
Children of all ages
Animals – Domestic, Farm, etc.